Disassemble and fix P6 connector in a Nintendo DS Lite
In this step by step guide, we are going to learn how to change the P6 connector, an internal connector of the Nintendo DS Lite.
Required parts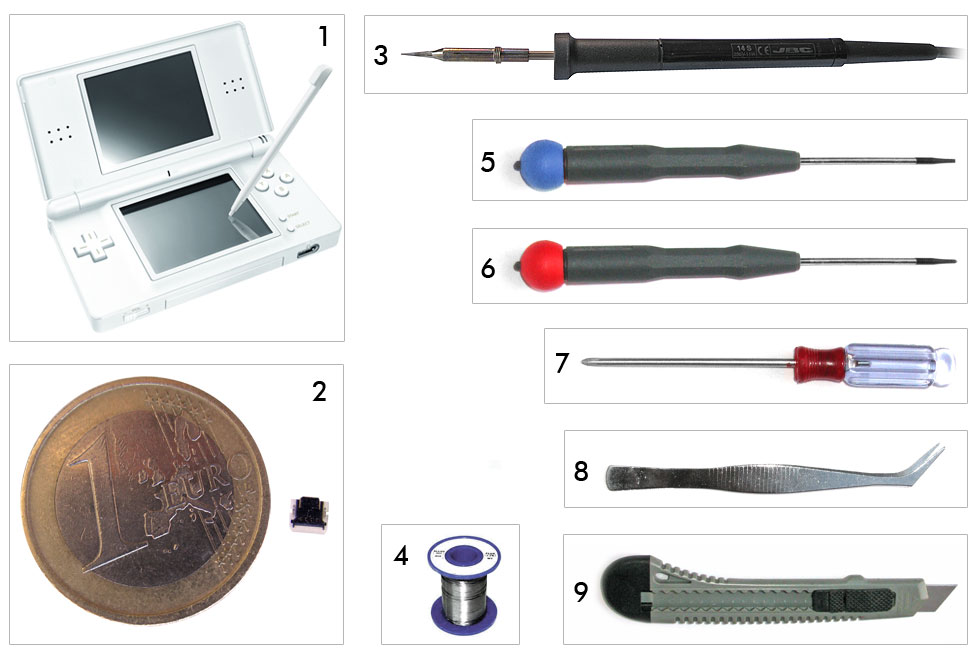 Steps
Remove the DS cart, if any (Slot-1). Remove the Game Boy Advance cart lid (Slot-2)

Remove the rubber legs. Use a screwdriver or a cutter to do so.

Using the proper screwdrivers, unscrew all marked screws. The one in red is from the battery lid.

Remove the battery lid and remove the new screw.

Last screw in red.

Remove all the DS bottom lid to uncover the console circuits. The red mark is the P6 connector..

Remove the L and R buttons, with care. There are two springs, be careful

All set

Disconnect the antenna connectors, marked in red.

Antenna wires disconnected.

Remove the Wi-Fi module. Pull from the red arrow.

Disconnect the touch screen wire.

Remove the damaged P6 connector.

The P6 connector is soldered by six soldered joints. The two side joints (marked in red) are the ones that hold the connector..

Heat up the soldered joints on the top, and remove the damaged P6 connector.

Put the new connector in place and solder the joints..

Put the new connector in place and solder the joints.

Connect the touch screen connector.

Be careful when you close the console. The volume slider and the power switch must be in the correct place before you close the lid.